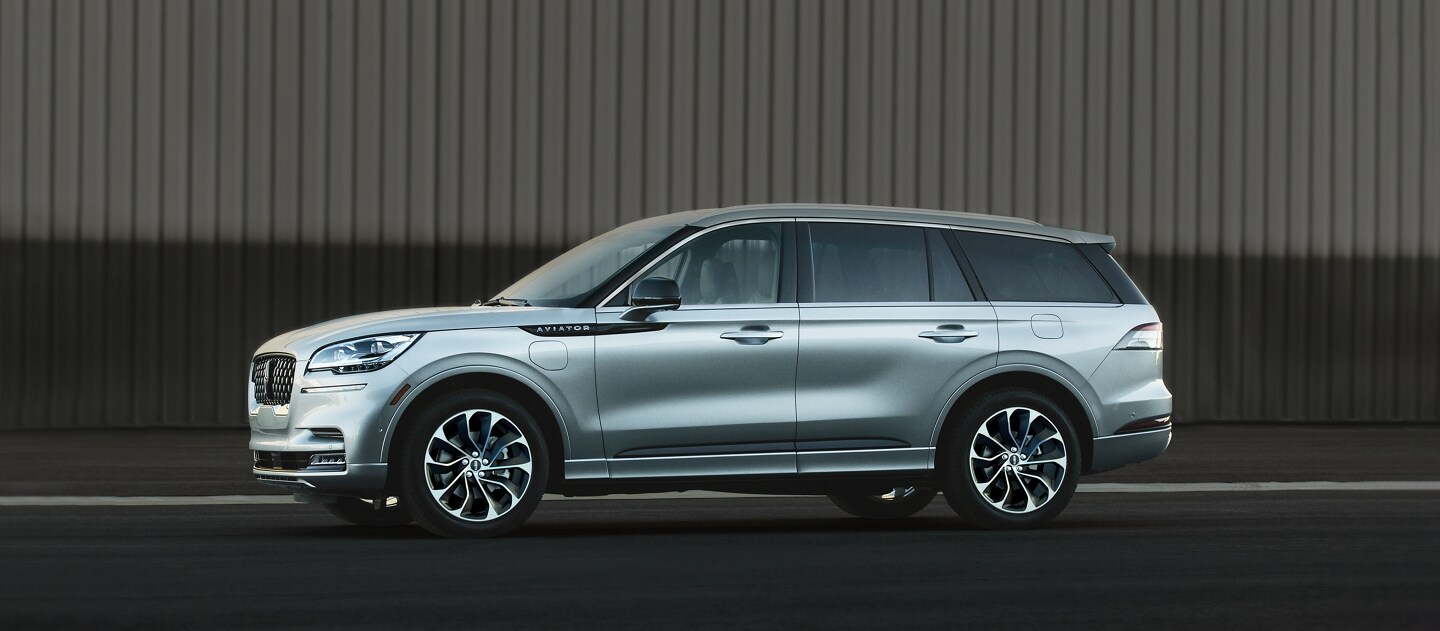 U.S. Grand Touring Model Shown.
Lincoln Embrace
You're near and your Aviator can tell. When it senses your approach, a suite of features activate as if to say "Welcome back" and "Where to next?"
...less
Lincoln Embrace features and function vary by model.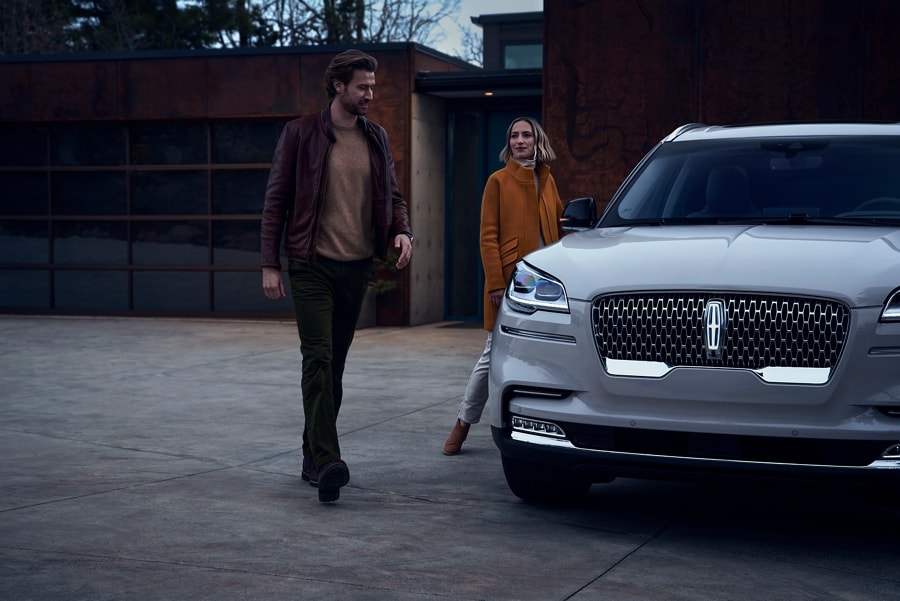 APPROACH DETECTION
When your key fob or your personal smartphone, if you have activated Phone as A Key and have an active Lincoln Connect™ subscription112 , is within a detectable range the Lincoln Aviator responds to your approach. Autofold side mirrors project a signature Lincoln logo welcome mat on the ground below the doors, door handle areas glow, and front and rear running lamps illuminate in a thoughtfully timed sequence. Plus, models with the available Air Glide Suspension with Dynamic Lower Entry will lower up to 2-inches (50.8mm) to help make getting in easier.

...less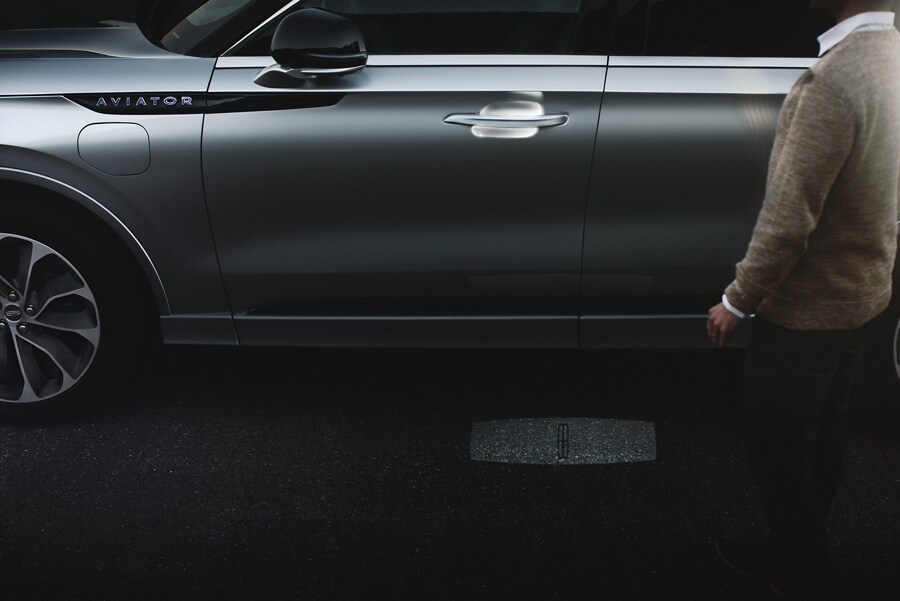 WELCOME MAT
As part of the approach feature sequence, a Lincoln welcome mat is projected from the sideview mirror illuminating the ground below the door. This light helps to guide the way while helping you see any debris, unevenness or water making for more sure-footed entrances.
...less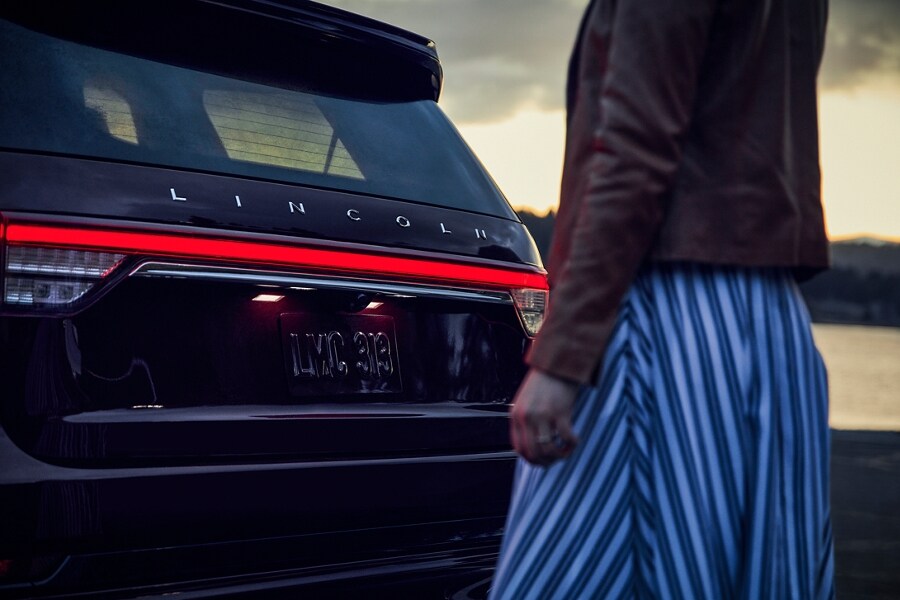 EXTERIOR LIGHTING
It's a warm and welcoming experience that helps guide the way. Tied to the approach detection sequence the headlamps and taillamps gradually reach full illumination.
...less
POWERFOLD® 3RD-ROW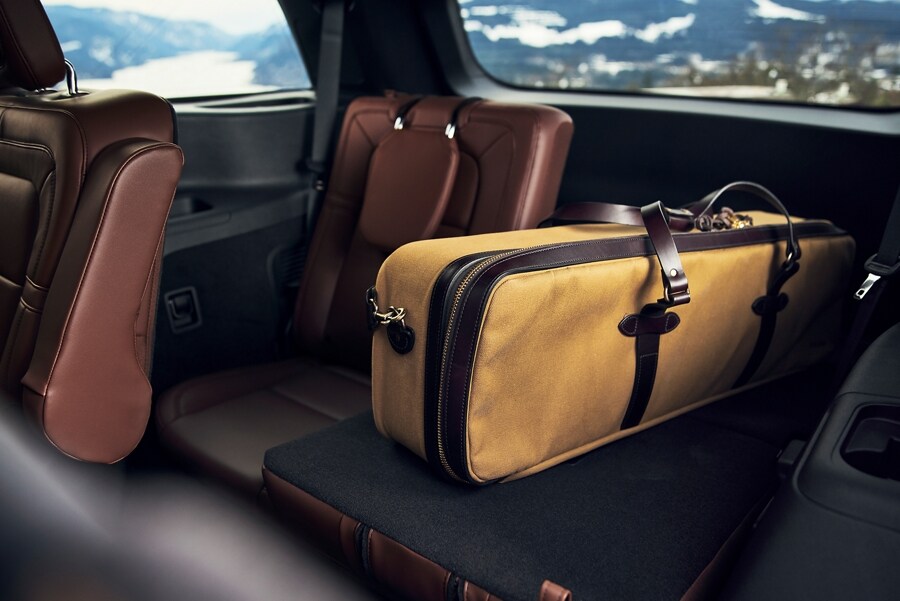 The convenience of added cargo room with the press of a button. The 60/40 split PowerFold 3rd-row comfortably seats two passengers and be easily folded flat with the press of a button.
...less
LIGHT TOUCH HANDLE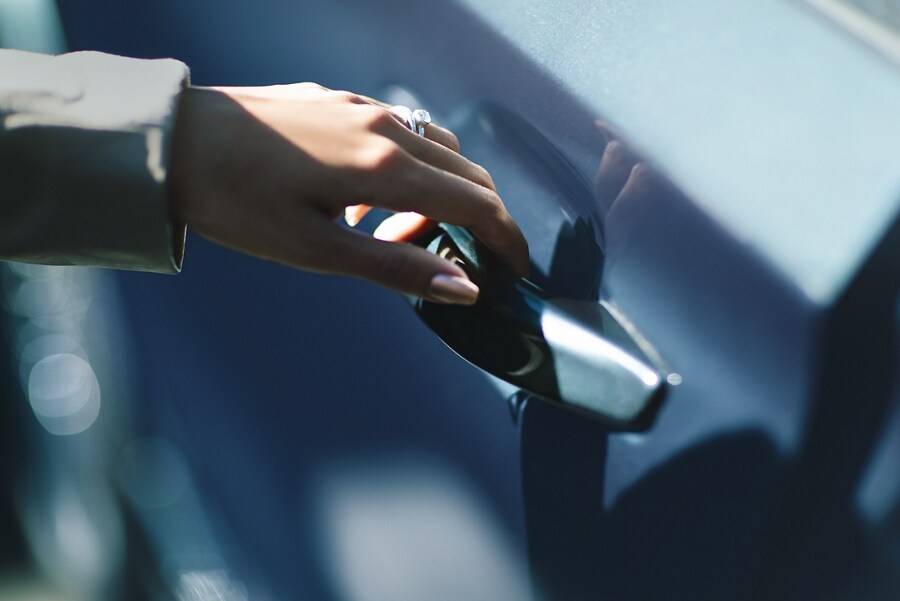 The Light Touch Handle allows users to gently grasp the interior of the door handle and, with a simple press, the door opens.
...less
COMFORT AT YOUR COMMAND
Time is perhaps one of the most valuable luxuries in life. That's why we've gone to great lengths to ensure the time you spend in a Lincoln Aviator is as relaxing as it is thrilling.
...less
U.S. Model Shown.
UNIQUE GRILLE DESIGNS
ADAPTIVE PIXEL LED HEADLAMPS

Shedding a little light on the situation. The Adaptive Pixel LED Headlamps apply a number of ground-breaking technologies to appropriately place light both on and off the road. At highway speeds, Speed Dependent Lighting is designed to shine light further into the distance and at slower speeds, the light array widens helping drivers to detect pedestrians and potential hazards. Adaptive Dynamic Bending Lighting uses camera technology to read road signs and lane markings to pre-illuminate the direction the road is heading.10 ...less

Grand Touring Model Shown. Available at EV-certified dealers only.

AVIATOR RESERVE GRILLE

A large Lincoln Star logo is centrally located on a field of repeating chrome Lincoln logo-like shapes.

...less

AVIATOR GRAND TOURING GRILLE

The dazzling grille of the Lincoln Aviator Grand Touring makes the most of both negative and positive space. The central Lincoln Star logo is surrounded by raised and repeated Star logo shapes.

...less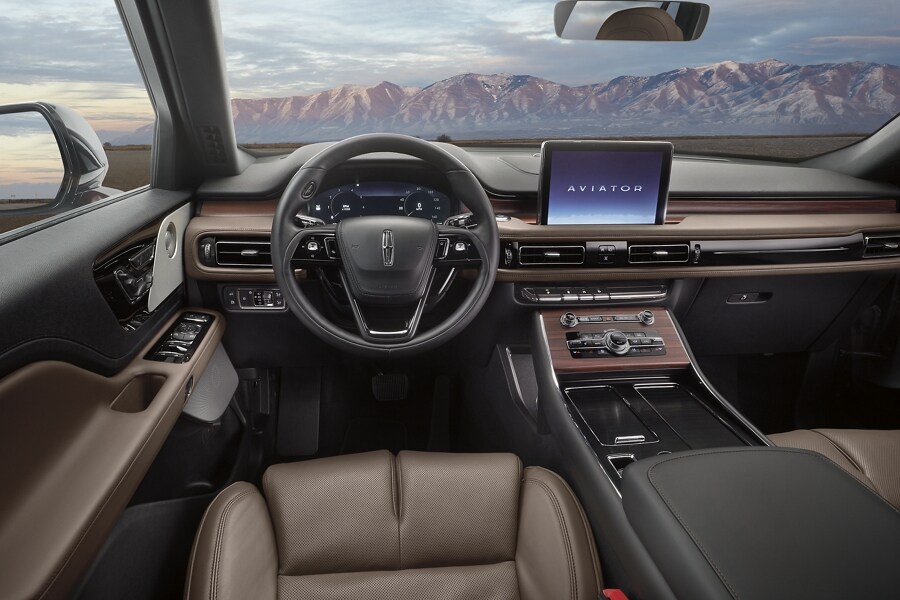 WHISPER QUIET INTERIOR
Experience the sound of sanctuary. The Lincoln Aviator features available Active Noise Control that captures, analyzes and reduces unwanted sound within the cabin. Acoustic Laminated Windshield and Front Door Glass also aid in interior quietness. To reduce sound from the powertrain, the engine compartment is sealed with a dual wall and the exhaust system is dual-valved. These attributes and more were all artfully crafted for your peace of mind.
...less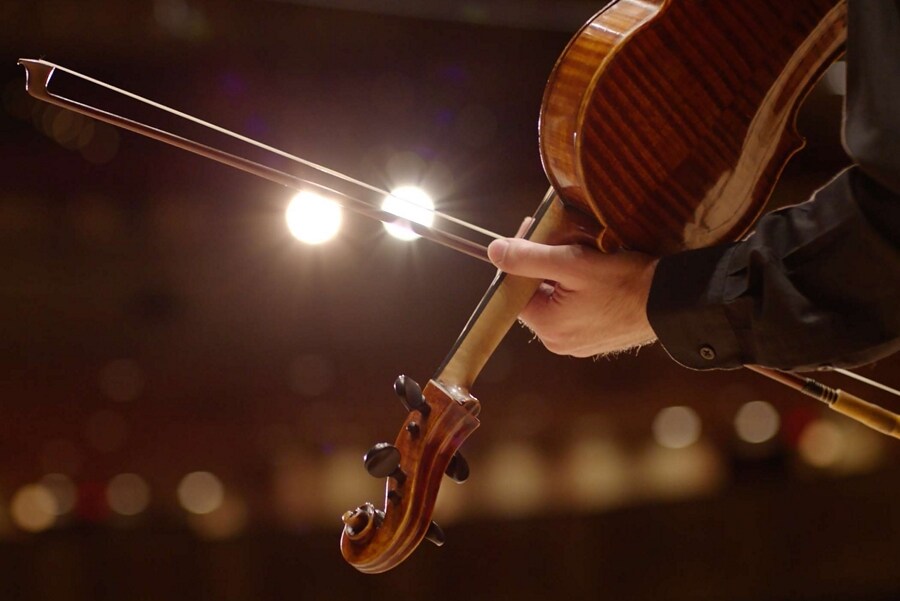 SYMPHONIC CHIMES
A bow being drawn across the strings of a violin, the soft yet recognizable tempo from a marimba and mellow echo of a viola. The Detroit Symphony Orchestra® has recorded soothing yet still attention-getting musical alerts that serve as non-critical, soft-warning and hard-warning chimes. Now, when your door is slightly ajar the sound you hear will be equally informative while being far more soothing.
...less